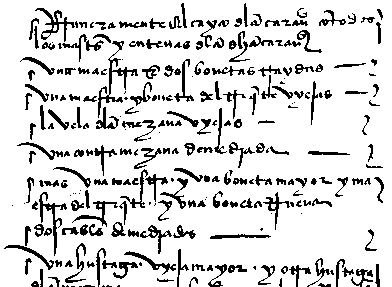 Archivo General de Indias (Seville, Spain). Contratación 3249, folio 178 vuelto.
•First the hull of the caravel with all


the masts and lateen yards of said caravel
•Carrying a mainsail and two bonnets
•A foremast mainsail and bonnet, both old
•An old mizzen sail
•A half-worn countermizzen sail
•In addition, a mainsail and bonnet [for the] mainmast


and a foremast mainsail and new bonnet
•2 half-worn cables
•1 old main tye runner [halyard], a mizzen tye runner,
• • • • • • • • • • • • • • • • • • • • • • • • • • • • • • • •
Complete document (image, transcription, and English translation) published in Denise C. Lakey "The Inventories of Niña and Santa Cruz," Appendix D of Roger C. Smith, Vanguard of Empire: Ships of Exploration in the Age of Columbus (New York and Oxford: Oxford University Press, 1993), pp. 239–256.
Ships of Discovery's archival collection supports computerized catalog of more than 2200 documents and contains copies of more than 700 items from Spanish archives. Other collections of copied archival materials pertaining to maritime topics can be found in
Old Spanish Missions Historical Research Collection in the Special Collections department, St. Florence Library, Our Lady of the Lake University (San Antonio, Texas)
Lakey DeLuna Research Collection (Accession M1996-09) in the Special Collections department, John C. Pace Library, University of West Florida (Pensacola, Florida)
National Archives of Canada (Ottawa).